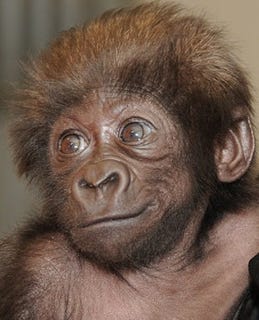 Preservation Projects
Roughly 25% of all the apes and half-apes (625 different subgroups) living in they natural habitats are in danger of extinction as the IUCN has stated.

The main reasons are: the destruction of their environment, people who kill apes in order to eat them and illegal organized export of apes. Therefore we sponsor organizations involved in the preservation of forests in Africa, Asia and South America, and organizations fighting against the illegal export of animals or the use of apes in households.
Youtube content can't be displayed with your current cookie settings. Select "Show Content", to view content and agree to the Youtube cookie settings. Get more info in the Youtube Privacy Policy. Opt-out here at any timecookie setting.
Show Content
Access to water, food and desertification
An emergency is made more serious if people, for whatever reason, don't have enough food to stay healthy and active. ·

The short term answer may be to provide them with food to prevent the life-threatening risk of malnutrition. The minimum requirement is 2,100 kilocalories per day per person, of which 17% should be fat and 20% protein. Longer term solutions require different interventions – providing communities with seeds and tools, or vaccinations and fodder to keep livestock alive during the worst months, helping people improve soil quality and maintain irrigation systems, or supporting them in finding alternative employment.
Projects are set up and assisted for a maximum of five years. During that period the necessary structures are established in conjunction with the local population and the authorities to enable to pull out gradually and hand over responsibility to a local team of assistants and support staff. This has the advantage that more and more people at different locations are able to benefit. Follow-up assistance and specific advice for projects that are already being self-administered is designed, in particular, to provide support to the members of the local assistance teams.
Vaccinations managed locally
.